---
FAQ
Where do you guys ship your Modular Units and Shell Kits?
Below is a map of the states we currently ship to, these states include: UT, ID, MT, WY, CO, NM, AZ, NV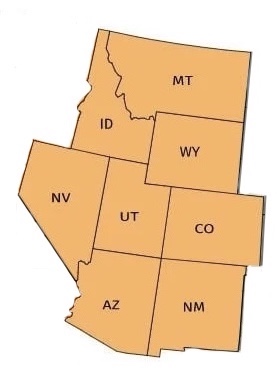 What is the lead time on your Modular Units and/or Panelized Shell Kits?
We are roughly 6 months out on all of our Modular Units and Panelized Shell Kits after the first payment is submitted.
We are then able to send the floor plans and builder packet within 1-2 weeks.
After you receive the builder packet, we will be able to get it engineered for your specific location so you can submit the floor plans for a building permit.
After you receive your building permit, contact us to schedule a day for the panelized kit or modular unit to arrive. That date will depend of when your home gets on our production schedule and when your onsite contractor has completed the excavation footings, foundation, and is ready to receive the panelized kit or modular unit. We always do our best to work with your schedule.
What is the difference between the Pod Modular Units and a Panelized Shell Kit?
Modular Units are fully completed units, meaning all the exterior is complete and the interior items are installed and complete (flooring, appliances, cabinetry, etc). Modular Units range in sizes from 288 sq ft up to 756 sq ft and are considered a "tiny home".
Panelized Shell Kits are just the exterior shell of the home and the size ranges from 800 sq ft up to 3000 sq ft. We build the walls, floor, and roof by panels in our factory and then are flat packed on a trailer and assembled on site. We will only assemble the exterior shell and the inside of the home is just framed and need to be completed by a General Contractor or Owner Builder.
To learn more please go to "How to purchase a home" tab.
How much do Zip Kit Homes cost?
We cannot give you a bid to build your home from start to finish. We sell floor plans and framed wall panel kits. To get a turnkey estimate, you need to get a bid from a local general contractor.
The price to build a complete home is determined by the local contractor who will be building your home. The price of a complete construction project varies significantly by location. There are a number of factors that influence pricing, including: engineering requirements (snow loads, seismic zone, climate zone, etc.), shipping distance, local contractor costs, options selections and site location/accessibility.
In general, the home will cost about the same, or slightly lower, than onsite construction. For this comparable or slightly lower cost, you get a precision-built home that's completed faster and with less stress.
In a low-cost area, where the average construction cost is around $200 per square foot, our kit homes may cost about the same. In a high-cost area, where average construction cost is closer to $300 per square foot, our kits will likely save you money.
And we work with most construction lenders.
Can you recommend a contractor in my area to work with?
We do not recommend specific contractors to build our homes. It is the buyer's responsibility to find their own general contractor or act as the owner-builder.
Do you build custom floor plans?
We only build custom floor plans if you have a project with 50+ units. For larger projects we can customize our kit homes and townhomes to meet your project needs and budget.
We do not customize floor plans for individual homes. We only offer the floor plans that are currently listed on our website.
Can I customize the home, like change window locations, interior walls, etc.?
You can purchase our standard floor plans and pay a third party designer to make changes to the home. However, we do not sell any customized wall panel kits. If you choose to purchase the wall panel kit from us you cannot make changes.
What is the payment schedule?
A basic payment schedule is as follows:
Floor plans and builder packet: Paid up front when you make the purchase.
Wall panel kit: Paid when construction begins in the factory. Generally, this is only a few days before the panelized kit is shipped to you.
Where are you located?
Our factory and model home is located in Cedar City, UT.
Our address is:
Zip Kit Homes
3665 West 2700 South
Cedar City, Utah 84720
We are about a 2-1/2 hour drive north of Las Vegas NV and a 3 hour drive south from Salt Lake City, UT.
What about financing?
Financing is no different than with any other site-built home. We do not offer direct financing through our company, but we do have several banks we work with depending on your location. You can contact your local bank and see if they offer construction loans and long-term home loans. You do not need to tell them it's a prefab home — it only confuses them. As far as banks, lenders and appraisers are concerned, your home will be NO DIFFERENT than any other site-built home (only faster and better built.)
Are Zip Kit Homes considered manufactured homes?
NO. Manufactured homes are built to a less stringent building code (HUD Code). Zip Kit Homes are built to the same building code as all other site-built homes.
We build your home according to the International Residential Code (IRC) or the International Building Code (IBC). These are the same building codes as most site-built homes in the United States and meet the highest standard. This allows you to qualify for FHA and USDA financing at low interest rates. This also ensures a higher resale value for your home.
Do you have more floor plans or larger homes?
Currently, we only offer the homes listed on our website. We do not build custom homes. If you are looking for multiple homes or a multi-family housing project, we can customize the homes to fit your specific circumstances and land. Contact us to discuss your specific project needs.
What about inspections?
The inspection process for Zip Kit Homes is no different than for site-built homes. The home is assembled onsite, and the local building official does the inspections after the structure is assembled. We have IRC and IBC certified third party inspectors for any required inspections in the factory.
Are Zip Kit Homes considered sustainable and green?
Yes. Our homes generate about 70% less waste than standard site-built homes. Additionally, since we focus on energy efficiency your home will require less energy and natural resources to maintain and enjoy.
How much does it cost to ship?
That depends on the home. Please refer to the specific home you're interested in for shipping costs.
Do you have model units we can come see?
We have a model home of our Columbia floor plan next to our factory in Cedar City, UT. The model home is shown by appointment only. Please email us if you would like to schedule a time (Mon-Fri. only).
How long have you been in business?
Over 20 years as a general contractor. We have built over 500 homes. We've been building prefab kit homes since 2009.
Do you offer discounts if we purchase multiple homes?
Yes. If you have a project involving 10 or more units of one floor plan we can offer quantity discounts. Contact us to learn more.
Can you send your framing crews to assemble the panelized kit?
Yes. That is included in the installed kit price. However, it is only available in Utah, Idaho, Colorado, Wyoming and Montana. We provide all the plans, documents and engineering needed for the onsite construction. We also only offer this service for projects with more than 10 homes. We do not set the homes for individual homes.
Do you offer a warranty?
We offer a full warranty against manufacturer's defects.
Can I become a dealer?
We can sell directly to the customer or directly to a general contractor. If you are a general contractor and would like to work with us, please Contact us here.
Do you offer off-grid options?
Any off-grid options such as solar would be completed by a local electrician or solar installer you hire find in your location. In summary, yes, your home can be off grid and solar, but that desire has nothing to do with the panelized kit or products we sell. That addition would be installed by a local contractor.
How long will my home last?
Zip Kit Homes last long as all other site-built homes with proper maintenance – 100+ years.
What materials are used in the exterior wall panels?
2×6 exterior walls, 24" on center with 7/16" OSB sheathing. Interior walls are generally 2×4, 24" on center. Interior plumbing walls are 2×6 walls.
Does the wall panel kit come with all interior walls pre-built?
Yes. All interior wall panels are pre-built and included in the kit. They are framed panels only, no drywall is installed.
Do the interior walls have drywall already installed?
No.
Is drywall pre-installed on the exterior wall panels?
No. We sell wood framed panelized kits. There is no insulation or drywall installed on the wall panels.
Does the kit include the R-13 fiberglass insulation that is installed after the kit is completed?
No, you purchase that separately.
Is any electrical, plumbing or drywall completed before the house arrives?
No. That is all completed onsite by local plumbing and electrical subcontractors you hire.
Are the wall panels pre-drilled for electrical or plumbing?
No. Plumbing and electrical subcontractors prefer to drill their own holes for wires and pipes.
How long should it take to assemble the exterior shell kit?
That depends on the size of the home. Most exterior shell kits are completed in less than one week.
If the house is a subfloor, not cement slab on grade, do you include the subfloor system in your kit?
We do not offer floor panels with our panelized kit. Your home can be built on a subfloor but that will need to be framed onsite by your local contractor.
Are the bottom plates pre-drilled to match the concrete poured in anchors?
No, our engineers specify Hilti concrete screw-in anchors. Our assembly crews can install the anchors after the house is set. Generally, your concrete contractor should not pour in standard J-bolts. We will make that very clear on the final plans.